Runner's Log 5/29/2017
👟 First time running outside since being attacked by the scourge of mosquitos. The treadmill is getting boring.
👟 I showered in bug spray, so hopefully things go a bit better this time around. (I also kissed a horseshoe, crossed my fingers, wished on a fallen eyelash, and said a prayer. One can never be too cautious.)
👟  Good news! It's windy, so that should keep the bugs away.
👟 Never mind. Apparently, black gnats and Mayflies (I think that's what they were) like the wind.
👟  Reminder #1 – don't mouth breathe when there are bugs flying around.
👟 Reminder #2 – don't spit against the wind. I know this one should be obvious, but I have the tendency to forget common sense things while trying to expunge insects from mouth and teeth.
👟 How many grams of protein do you suppose black gnats count for?
👟 Reminder #3 – don't pick out a wedgie until AFTER you've looked to see if anyone is around. Side note: sorry, person weeding your garden. I didn't see you there.
👟  Hmmm…it just got windier and darker. Those clouds look a little bit ominous…and oddly familiar.
👟  "The Nothing is coming!" That's what they look like. (What movie is that from? Answer it correctly and we can be friends forever. Answer incorrectly and you're on friendship probation.)
👟  This wind is ridiculous. I feel like Al Roker during that hurricane where the camera dude had to hold onto his legs to keep him from flying away.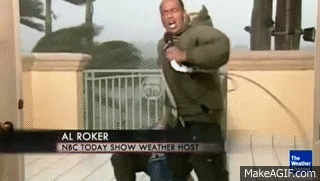 👟 I made it home safe and bite-free. However, my bug spray shower (and possibly help from the combination of the horseshoe, crossed fingers, eyelash, and prayer) turned me into a human version of a bug zapper.
👟  I suppose the gleaming white of my legs acted as a tractor beam. Don't be jealous. You know you wish you glowed in the dark too.